Military Family's House Lights Up
Posted:
Updated: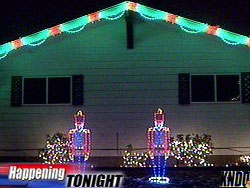 KENNEWICK, Wash. -- A military family celebrates new Christmas lights on their house and more importantly, the satisfaction of being together again.
This holiday season, Gamache landscaping started a contest, designed to give the most deserving military family a Christmas display, free of charge.
The Coney family came out on top. Thursday night, the Coneys returned to their home in style, by limo after just having finished a dinner at Tony Roma's. Friends and family gathered to help them celebrate.
Joseph Coney returned in April from a 10-month tour in Iraq. He and his wife say they didn't feel complete when they were away from each other.
Julie Coney says, "It's hard when they're gone. It's lonely when they're gone."
Joseph says, "It's like someone has taken a piece of you, there's nothing you can fill it in with."
But Thursday, as the family gathered to celebrate the new lights on their house, Julie remembered how they got through ten months of not seeing each other.
She says, "One day at a time, you wake up, you deal with that day, and keep going. Think big picture. It is really overwhelming to think about when you'll see them again."
But now the family of six is back together and both Joseph and Julie says there is no better feeling.
Julie says, "It's great to have him back. It's great to have him be a part of our everyday lives."
Joseph says, "Seeing my family was the most important thing. Everything else aside, they are the ones I missed the most."
There are over 2,000 lights adorning the Coney house and they cost nearly $4,000 dollars. The Coneys say they are thankful for the lights and for all the community support.