30 Children "Shop with a Cop" for Their Families
Posted:
Updated: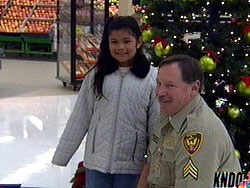 Posted: December 1, 2007 7:45 p.m.
KENNEWICK, Wash.--They took Wal-Mart by storm. Police officers from across Tri-Cities made a few extra friends today as they helped 30 children shop for clothes and toys.
"This is a fun time for all of us," says Captain Keith Sharp, Kennewick police. This is my friend Natalie. Natalie and I are shopping for her mom, dad and her two sisters. We're getting some good Christmas presents for them."
Armed with $100 dollar debit cards and shopping carts, each child and police official visited aisle after aisle. Benton County Sheriff Larry Taylor admits he loves to shop, but it's not as fun without his friend Samantha.
"It's a lot of enjoyment that we get by going with them and they have a lot of fun too, don't ya? It is fun, its great," says Taylor.
The smiles say it all. One girl said the experience was pretty cool.
"What did you like the most," asks reporter Joe Angelo. That I got to go shopping with the cops," responds Alex.
With a set budget, officers used certain tools to make sure things added up.
"Along with gift cards, we have calculators, right?" asks Detective Theresa Morrell, West Richland police. Calculators keep us in budget."
That approach didn't work too well for some. Officers were committed to spending whatever it took.
"We went a little bit over budget, but we had a great time and I learned I can't operate a calculator too well," mentions Sergeant Scott Child, Kennewick police.
"We just got wrapped up in the moment," admits Captain Tim Harris, Kennewick police. This shopping that's going on and everything, wrapped up in the moment. We're going hey this is cool. We can't let mom or dad or brother down so, we gotta do it, we gotta do what we have to do."