Opening Statements in Samolyuk Murder Trial
Posted:
Updated: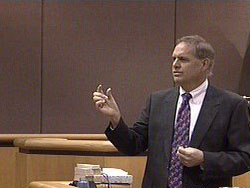 KENNEWICK, Wash.- Opening statements were made Monday in the trial of a man accused of bruttally stabbing his wife to death.
The defense admits Igor Samolyuk killed his wife, but says he didn't know what he was doing at the time.
Samolyuk's attorney Kevin Holt made it clear in his opening that they don't deny Igor killed his wife Yana, but that an untreated head injury from a car accident prevented him from controlling his rage.
"The knife was plunged into her neck, after the incise wounds, three inches in, knife's removed, the knife is then put back into the neck," Prosecutor Andy Miller pointed out in his opening.
Igor Samolyuk acknowledged only the pen in his hand as prosecutors described the brutal murder he's accused of.
Prosecutor's allege Samolyuk stabbed his wife 18 times as she bled to death in their car in July 2006.
"The evidence is going to show that the knife was used with such force during the stabbing motion that the knife eventually broke," Miller said.
Sergeant Bill Morey was on scene that day. He described the scene when he arrived.
"I did not move her, i didn't go into the vehicle any further at that point. I was waiting for the paramedics, it was obvious to me that she was deceased," the Sergeant said.
Samolyuk's attorney Kevin Holt says he won't argue that his client did not kill his wife, but that doctors didn't properly medicate Samolyuk following a head injury that left him in a coma for nine days, including forgetting to prescribe medication that would have controlled samolyuk's rage.
"Stand on a real high cliff and wonder if we just leaned out like that, what would happen....but the reason we don't do those things is because we have impulse control," Holt said.
The defense says that's apparent by the fact the accused slit his own wrists after the stabbing, an assertion they say will prove igor couldn't tell right from wrong when he killed his wife.
At one point it appeared this case might not go to trial Monday.
Attorneys spent the first part of the day questioning jurors about a newspaper found in a jury room last week, after that Superior Court Judge Carrie Runge denied the defense's request for a new jury.
This trial is expected to last for about two weeks.