CWU professor is found alive
Posted:
Updated: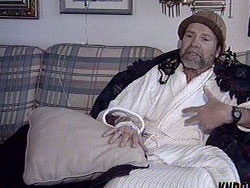 Ellensburg, WA - Kittitas Valley Search and Rescue was able to find a Central Washington University professor who went missing near Umtanum Ridge yesterday afternoon.
65-year-old David Lygre is an extreme distance runner, but he found himself trapped in extreme weather conditions.
He was all by himself on a 26-mile run from Selah to Ellensburg.
"There were two times that I was pretty sure I was going to die," says Lygre.
But he defied the odds and survived.
No frostbite.
No trip to the hospital.
All he needed was a warm blanket and an IV with fluids after spending more than twenty hours stuck in a snowstorm on the Umtanum Ridge.
"I had on the tv and it said there was a winter storm watch, but there was probably only an inch of snow."
Lygre has been a distance runner for 30-years, going on long and challenging runs all the time, but the conditions got so dire that he couldn't see at all.
He had no choice but dig a snow cave for shelter.
"For a while I thought why don't I just drift off into unconsciousness and let this be over, but I couldn't do it because I was shaking so bad," says Lygre.
His wife Laurae stayed up all night with family and friends, praying and friends at their house.
"I mean there were times when I was just overcome with the reality of it and it was scary, but we had so much support."
The phone call came at about ten o'clock this morning.
Despite having nothing to eat or drink for 20-hours, Lygre had mustered up the strength to walk over the ridge when the sun came up and was found three hours later by Search and Rescue.
"I was really overwhelmed and all of the support. I have some running friends and a number of them were up all night."
Lygre has been training for a 24-hour marathon in Phoenix, Arizona that's set for New Year's Eve and he still plans to run in that race.
Search and Rescue says Lygre did one thing that probably saved his life.
He let his wife know exactly where he was running.