Drivers detoured through Yakima
Posted:
Updated: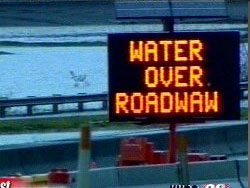 Yakima, WA - With all the flooding in Lewis County, traffic between Seattle and Portland has been redirected through Yakima.
The DOT reported that there was increased traffic on I-82 and Highways 12 and 97, but things still moved pretty smoothly.
Drivers we spoke with tell us the traffic and weather is much better than what they saw on I-5 yesterday.
"It was the worst I've seen."
"I haven't seen it this bad since '96."
Every person at the 'Gearjammer' Truck Stop had a horror story.
"I was stuck in traffic and I really had to go to the bathroom," says Chris Ballard, a trucker for United Natural Foods out of Auburn.
He was on his way from Portland to Seattle.
It was also a long road for Robert Wagner who was trying to go from Tacoma to Longview. He had been driving for 14-hours and counting.
"I was driving so much, I was really tired and fatigued and the breaks aren't the rest that you need," says Wagner.
That rest wasn't going to come for another 363 miles.
Meanwhile the DOT says its not sure how much longer I-5 was going to be closed.
"In '96 had to close I-5 for six days," says Mike Westbay who handles communication for the DOT, "We definitely want to have it open sooner than that, but first we have to assess the road. We have to see how much there is to repair."
The DOT says that they did start to see some back ups near Easton on I-90.
That's where they had crews repairing a bridge, but that's been put on hold for now and all four lanes are open again.