Helping Offenders Adapt to Life after Prison.
Posted:
Updated: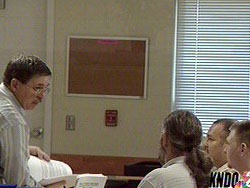 KENNEWICK, Wash. - The Department of Corrections says employment for ex-convicts is crucial to preventing them from committing more crimes and returning to prison. A man in Kennewick agrees.
Lee Moses has been a window painter for 25 years. He's also the Pastor for an outreach called The Inn Keepers in Kennewick. It's a group that helps ex-cons get back on their feet.
On the other hand John Bucko is an ex-convict who went to prison for committing a robbery to fuel his drug habits. After five years in prison, John was looking for a better life. Lee decided to give John a chance at doing just that.
"We're really working together trying to change lives coming out of prison. We're tired of the recidivism of those getting caught up and falling back into the old life styles." Said John Moses, Pastor for The Inn Keepers Outreach.
Lee found out that John had a knack for art. John Bucko just happens to be the artist who designed the cover of "The Convict Cook Book." Lee decided to find him a job, his job. "I'm out here teaching him this business and I'm handing over this window business and sign business to John Bucko."
John says it can be difficult adjusting to life after prison. But this job is keeping him busy. "It's been great to have a guy that's backing you up like that and giving you support. I'm learning something new everyday, keeping my eye on Lee with the painting and the brushing. Clean, sober, living free is what I want to do so I'm taking these steps."