Tri-Cities Work Release Program
Posted:
Updated: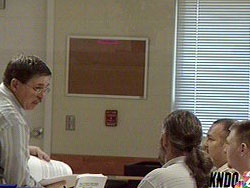 KENNEWICK, Wash.-- A corrections program in the Tri-Cities is cutting the number of offenders who committ new crimes after prison.
The work release facility in the Tri-Cities has been around since 1999.
It is one of many programs in the state, giving certain offenders the opportunity to serve up to six months of their sentence in a residential facility.
It was not long ago these residents were serving time in prison . They are now part of a program that allows them to get back into the community.
"The best part about the program is the fact that it does give offenders an opportunity to get a job, to go to work, to reconnect with their family," said Debra Prichard, Community Corrections Supervisor for the Tri-Cities work release facility.
This is the case with Terry Zieske. He is one of three new inmates joining the facility, bringing the total number of residents to thirty.
Terry served time at The Coyote Ridge prison for two and a half years and plans to stay at this facilty for the next six months.
He said, "I'm here to get re-acquainted with my family, to get back what I've lost."
The facility has 23 rooms. It is also equipped with a kitchen, laundry and recreation room. Residents are allowed visitors and there is a staff sargeant on duty 24-7.
Janice Busig, a resident of the program said, "living in the facility is more of a family, you know, we get really close."
Offenders who participate in work release programs are less likely to re-offend. On a daily basis residents are usually at work or out looking for work.
Kim McIntosh, another resident, is scheduled to leave the program next monday. "It's Christmas time. I'm really excited about going home and starting over," she said.
McIntosh says the community needs to keep an open mind for people like her to succeed in the program. "I appreciate the people in society that are willing to give us people another chance," she said.
The Department of Corrections currently has 15 work release facilities statewide, housing an estimated 700 offenders.
Before joining the program each resident goes through a screening process, conducted by a committee made up of law enforcement, prosecutors and community members.