Shoplifting In the Tri-Cities On the Rise
Posted:
Updated: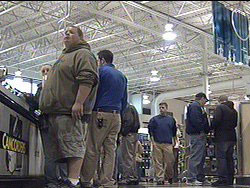 Posted: December 5, 2007 6:54 p.m.
KENNEWICK, Wash.--Shoplifting is no longer just a holiday headache for retailers. Theft has become almost an everyday occurrence in the Tri-Cities. Compared to this time last year, Kennewick Crime Prevention officials say the number of shoplifting cases has jumped...significantly.
"We've seen about a 50 percent increase in the number of cases referred to us with shoplifters here in Kennewick," says Mike Blatman, Kennewick police Crime Prevention Specialist. Part of that has to do with additional stores that are referring people to us."
606 incidents this year alone. Kennewick Assistant City Attorney, Eric Eisinger, attributes a growing population and sporadic drug use to the huge increase. However, he says stores are being more aggressive with their loss prevention efforts.
"The stores have better technology , better camera equipment and have employed more people to investigate these kinds of cases," says Eisinger.
Penalties for shoplifting can either be a misdemeanor or felony. What distinguishes one from the other is the value of the items stolen. Anything greater than $250 dollars is a felony.
"You could also get a felony case where for instance the person who steals the property has an intent, actually does sell the property that they stole to somebody else for the money," says Eisinger.