Rep. Shirley Hankins Fined by Ethics Board
Posted:
Updated: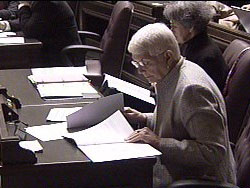 Posted: December 6, 2007 6:45 p.m.
RICHLAND, Wash.--Hankins was accused of helping obtain a city business license, promising legislation that would favor the business, and prompting Richland city officials to use the company's tires in building a highway and shooting range.
"It's a fine line you gotta watch," says State Senator Jerome Delvin, (R) 8th District. I was not surprised that they found...their involvement with her daughters. A lot of people felt she crossed the line."
Today, a report from the state Legislative Ethics Board says Hankins used her political ties to secure special privileges. It also says she violated state statutes by using public resources to promote Northwest Tire. State Senator Jerome Delvin said he tried to warn her.
"I told her several times she needed to stay away from any tire legislation or ya know anything dealing with that so there was no appearance of impropriety, says Delvin."
Richland mayor Rob Welch says the voters will have an opportunity to decide for themselves. Meanwhile, state Representative Larry Haler voiced his support towards Hankins long-standing community efforts. Delvin says Hankins simply got too involved.
"If she chooses to run again, I'm sure people will forgive her," Delvin said. She's done a lot of good for that (Richland) district too."