Hispanic Students Pursue Higher Education
Posted:
Updated: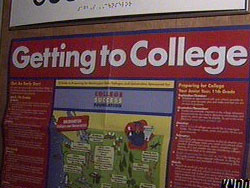 PASCO, Wash.-- More and more the younger generation of Hispanics in the Tri-Cities is pursuing a higher education. Most students cannot afford to go to college, but are glad to know they have a helping hand in the community.
At Pasco High School 70% of the student population is Hispanic. Many of these students look forward to getting a higher education but cannot afford it.
HAAP, is the Hispanic Academic Achievers Program. A group of volunteers who motivate young Hispanics to go to college.
This year the Hispanic Chamber Of Commerce has asked local businesses to contribute to this cause. Grace Valle, a board member, can relate to these young students. She knows sometimes hard work and dedication just isn't enough to make it.
"I saw how much I struggled and what I went through, and I wouldn't want other people to go through the same thing," Valle said.
These organizations are making an effort to help educate young Hispanics so they can have better opportunities for employment.
Last year HAAP raised over $80,000 and gave away 35 scholarships. Some students at Pasco High are already counting on the extra help.
"It's important for me to look at the scholarships because without scholarship money, there really isn't a way for me to attend college," said Neddy Martinez, a senior student at Pasco High.
Most of these students are the first ones in their family to attend college, while others are following the example of older siblings. Stephanie Nunez says her sister is a previous recipient of a HAAP scholarship and she hopes to follow in her sister's footsteps.
Nunez said, "Seeing her up there was a pretty big deal especially to our family. I've been looking forward to HAAP since the 4th grade."
These organizations want to keep helping young Hispanics. They hope the number of Hispanic students that attend college increases.
At Columbia Basin College, only 29 percent of students are of Hispanic origin. A figure HAAP hopes to increase by continuing to provide financial help.