Madison Regatta trophy held hostage?
Posted:
Updated:
Madison 2007 Photos: Jim Simpson
The Madison Courier is reporting the Madison Regatta folks are having trouble getting their trophy back from the Elam team.
Driver Dave Villwock and the Ellstrom team won the trophy for the third straight time in 2007. In the past, winning the Regatta three straight years would give you permanent possession of the trophy. But the Regatta folks say that tradition ended in the 60's and they want their trophy back.
"I was told that if I want it, I'd have to come and get it," Regatta President Crystal McHargue was quoted in the Courier newspaper as saying. "They told me that it was in (Miss Elam Plus owner Sven Ellstrom's) office under lock and key."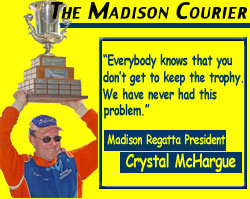 Related Links



READ:
Madison Courier article >>



GO:
Madison 2007 Racing Archives >>
INCLUDES VIDEO OF EVERY HEAT
Madison 2007 Recap

For Villwock, the win at Madison was the 54th career win for Villwock.
In the finals, the hometown Madison crowd had cheered for the U-6 Oh Boy! Oberto/Miss Madison all afternoon, watching Steve David win three heats. And he came flying at the start of the finals, hitting the start/finish line right on time. He led the field into turn one.
Coming out turn one, David and Villwock were side-by-side. Villwock took the lead into turn two. It went back and forth for a while as David took the lead back on the front straightaway before Villwock grabbed it back. "Elam had the speed on us," said David, "That's why they're the champion."
The U-6 went up on its right sponson in turn two and that allowed Villwock to pull away for good.
"I did have trouble starting the boat," said Villwock, who almost watched his chance to defend the title evaporate as he tried to leave the dock. "I tried to spool it and it didn't go. I gave it some more and then a little more and finally it started."
"I need a different battery, I was just getting 20 percent. Just hoping, and finally it just got enough RPM," Villwock said. "I probably broke something in the boat, but I don't care. I just wanted it to run."

"I knew Dave had a lot of speed," said David. "When I had the lead, I knew where he was and I was just waiting for him to put in sixth gear and go. He did and I just couldn't hold him off down the backstretch."

Villwock was beaten earlier in the day by David and he knew the final wasn't going to be easy. "He beat me fair and square in heat 1-A," said Villwock. "That's racing. In the end, I was able to beat him. But what he (David) did today was amazing. This was a great race. "