Soldier Returns Home with a Big Surprise
Posted:
Updated: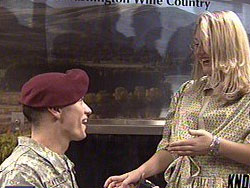 Posted: December 8, 2007 6:26 p.m.
PASCO, Wash.--"15 months, it's been a long time," exclaims a proud father.
But the wait is finally over. Army Specialist Mike Clayton returned home today into the arms of his family, friends, and 'Operation Thank You' supporters.
"It's the best Christmas present we could ask for," says Michael's mother, Shawna Ahonen. We got our Christmas early."
In his second-tour of duty, Clayton spent 15-months in Iraq, serving with the 82nd Airborne. His parent's say Michael doesn't like the spotlight, but when it comes to extreme sports, this Pasco native enjoys hitting the slopes.
"He's funny," says Michael's Stepsister, Devon Lawrence. He's out there. We went snow-boarding together and he helped me up, he snow-boarded with me. I'm kinda slow at that, but he was passing me and I was passing him, it's really fun. He's a great person."
Clayton's arrival at 1:30 p.m. this afternoon wasn't a surprise. Although, what he did next shocked everyone, especially his girlfriend, Sarah.
Clayton proposing to his fiance, Sarah
Now, this solder and his new fiance have a new mission to prepare for...planning a wedding.
"I was just expecting him to come home, family greeting him, me saying hello, giving him a big kiss, hug and then going back to the Clayton's," mentions Sarah Threlfall. Wasn't expecting a proposal. I'm very excited.