Tasers Are Very Effective for Local and State Law Enforcement Agencies
Posted:
Updated: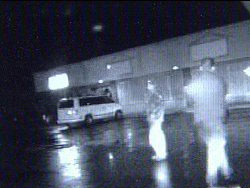 Posted: December 11, 2007 6:30 p.m.
TRI-CITIES, Wash.--In five years, West Richland police have either displayed or used the Taser 32 times. This video shows officers telling a suspect, accused of malicious mischief, to get on the ground. He refuses. Even with the Tasers drawn, he doesn't seem to care. Now watch him drop like a box of rocks.
"They've been extremely effective for us," says Chief Layne Erdman. They keep us from having to go hands on combat with people. They've kept us from having to deploy other duties and we've found out they're a deterrent."
Washington State Patrol received Tasers back in July. So far, troopers have been forced to tase two people. However, simply displaying the device is convincing many suspects to cooperate.
"The trooper pulled the Taser and told him to stop running," mentions Sgt. Zach Elmore. He looked back and saw the Taser and stop and gave up. He didn't want to get shocked by it. He heard about it. He said he'd never been tased, but I heard about those. I don't want any of that."
Kennewick police is the latest department to get the device. Although only Criminal Apprehension Team (CAT( team members and select officers like officer Shirell Veitenheimer have received them. She mentions one incident where a suspect was being rowdy in the back of a patrol car.
"As soon as he noticed the Taser was on him and he was told that it was a Taser device and that he was going to be tased if he didn't comply, he immediately complied and the officers were able to disengage physically," says Ofc. Veitenheimer."