International Unlimited Hydroplane racing - Erick Ellstrom: "We have an actual signed agreement."
Posted:
Updated:
We've seen unlimited hydroplane fly over the river, but if the Dubai deal goes through, you'd see them flying really, really high - like inside jets headed over the ocean to Dubai in the United Arab Emirates.
"We have an opportunity, if we play our cards right, and diligently work out all the details," said U-1 team owner Erick Ellstrom; "to have a seasonal circuit that will race in foreign lands. Abu Dhabi, Dubai, Monte Carlo, Oman, Muscat, England and several other wonderful locations are working with us to fashion an actual race circuit that would begin in late November and conclude in early January each year."
It's been in ther works for some time. As HydroInsider.com reported a years ago, it's the partnership of the Elam team and Boeing that's key to the new deal. "This is an entirely new presentation and has taken over a year to put together," said Elam. "We are working with several heads of state, the Boeing Company, as well as a host of city council members and city officials."
And before you dismiss it as just more wishful thinking, Ellstrom says there's a signed contract already in place... for this year.
---
"This is no longer a dream and we have an actual signed agreement that
will allow, in the first season - 2008, 4 hulls to be brought over to these
countries, and put on exciting exhibitions in the various cities."
Erick Ellstrom, June 19, 2008
---
Ellstrom says there's hope that in 2009 the (Abu Dhabi International Boat Racing Association) ABIBRA World Championships will be held in Abu Dhabi, much like they are doing with Formula One Racing and even golf.
Approximately 1,000,000 people live in Abu Dhabi as of 2008, of whom 80% were expatriates. One of the world's largest producers of oil, Abu Dhabi has actively attempted to diversify its economy in recent years through investments in financial services and tourism. Abu Dhabi is ruled by Khalifa bin Zayed Al Nahyan, who is also the President of the UAE.
From the HYDROINSIDER ARCHIVES: About Dubai
Dubai's been trying to build a reputation as a destination for major sporting events. It's been home to the X-Games Dubai and major golf events like the Dubai Desert Golf Event in February that attracted Tiger Woods. The city has made a significant investment in infrastructure to attract world class sporting events. It hopes to use sports as a way to attract global attention and tourism.
The latest project is Dubai Sports City, scheduled to open later this year. It's a city-within-a-city, dedicated to sporting events and enthusiasts and includes stadiums, sports arena, retail, and residential living. Pretty unique project: It could host 25,000 spectators for a cricket match, 60,000 for soccer or football, 10,000 for basketball, 5,000 for hockey, and a major golf tournament all at the same time.
Dubai sits in the northeastern tip of Saudi Arabia, across the water from Afghanistan in the Persian Gulf. It's a long way to go to run a boat race. [ SEE MAP BELOW ]
---
"They're very intersted in having us bring our boats over there."

Erick Ellstrom, July, 2007


---
Sheikh Mohammed bin Rashid al-Maktoum, ruler of Dubai, is a sports fan... and reportedly a fan of hydroplane racing. A delegation from Dubai was hoping to make an appearance at the Seattle or San Diego race sites.
One possible location is the Dubai Creek Golf & Yacht Club.
"They're very interested in having us bring our boats over there," Erick Ellstrom, crew chief of the Miss Ellstrom Elam Plus, told the Seattle Times. "They love hydroplanes over there."
It's not unprecedented to have a hydroplane event off the "mainland." There have been races held in Hawaii. Freighters were used to haul the hydros back and forth and could do the same for an event in Dubai. But planes would be way cooler.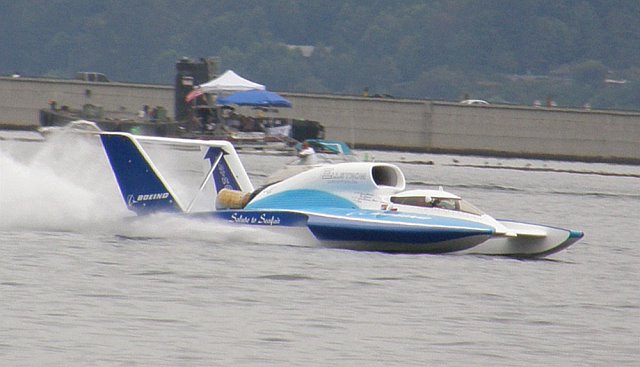 And there may be this synergy thing going on. The Boeing Company rolled out the U-787 at Seattle, painting Ellstrom's backup hull and taking it for a parade lap at Seafair.


PHOTO: U-787 at Seafair by Russ McElroy


LINK: Boeing & Ellstrom link up for U-787 >>


LINK: U-787 could run if needed >>
Dubai's interest in hydro racing may line up nicely with Boeing. Recently, Dubai Aerospace Enterprises signed letters of intent to buy nearly 70 of Boeing's 737s along with other models totaling 100 aircrafts. Dubai also bought 200 planes from Aerobus in its bid to be one of the three largest air shipping and leasing companies in the Middle East.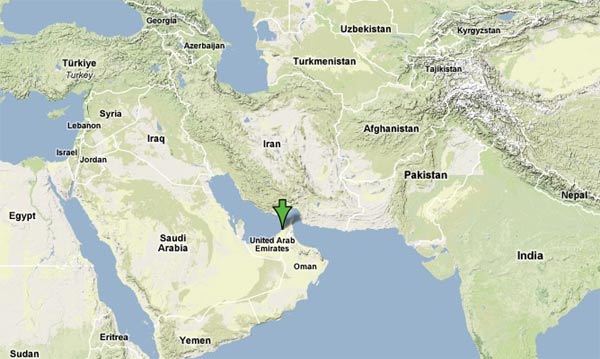 Google Maps