Two Richland High School Students Arrested for Bringing a Gun to School
Posted:
Updated: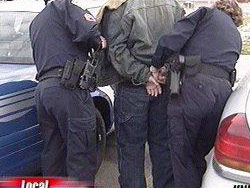 Posted: December 12, 2007 6:30 p.m.
RICHLAND, Wash.--This is a situation that could've evolved into a very scary situation for law enforcement, school staff and students. At a press conference late Wednesday afternoon, Richland School District Superintendent, Dr. Richard Semler and police Captain Mike Cobb said a student saw a gun being passed to another student in Richland High School.
The student then passed a note to a school official. From there, police were contacted. A school resource officer as well as other officers walked into a classroom where both students were and took both into custody.
Captain Cobb says police found an unloaded semi-automatic handgun in a backpack along with a separate fully loaded magazine. Cobb confirmed the handgun belongs to one of the kids family members and that he or she didn't know the gun was out of his/her possession. Right now, the motive is unclear.
According to Capt. Cobb, It's "likely" both students will be spending the night in the Benton County Juvenile Justice Center.
"By state law, it is mandatory that the individuals are booked into the (Benton County) Juvenile Justice Center and that a psychological evaluation be conducted," says Capt. Cobb.
"It goes through your mind how horrible it could be if that happened," mentions Dr. Semler. This is a situation where it did not happen but having a student on campus with a gun and cartridge is very,very sobering."
That was Dr. Semler referring to recent school shootings across the country. Semler added at no point was Richland High School on lockdown. Capt. Cobb says the risk was eliminated very quickly. He also added that police do not have any information suggesting any student(s) was being targeted or possibly threatened with the weapon.
A determination as to whether these two students will be expelled will be made Thursday. Dr. Semler said he will be meeting with school board members to discuss appropriate penalties.