Gregoire: New Plan to Keep Sex Offenders Accountable
Posted:
Updated: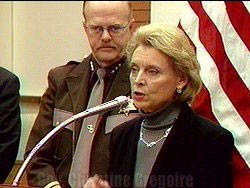 KENNEWICK, Wash. -- Wednesday, Governor Gregoire outlined her plan to keep sex offenders accountable. She says that despite the fact that the new programs will come at an increased cost, they are worth it for communities in the Tri-Cities and Yakima.
Gregoire says, "Community safety is the responsible of all of us. It's not just the responsibility of the law enforcement community or the prosecuting attorney's community. It's the responsibility of all of us."
After establishing the need for an emphasis on sex offender programs, Governor Gregoire outlined several different areas where she says sex offender programs can be strengthened.
The first area she covered was giving more resources to local authorities. Local leaders said that resources were the main problem.
Benton County Sheriff, Larry Taylor says, "With so little resources it's hard to make the face to face contacts but we are trying, working with our partners, the Kennewick and Richland Police."
Another issue local leaders were concerned about is how to locate sex offenders. But, they seemed satisfied with Gregoire's plan for electronic monitoring for the most dangerous offenders.
Kennewick Police's Alan Knox says, "It's so frustrating especially with transients to find them and keep them accountable. I think this is the only way to do it."
The governor also said that her plan includes more money for sexual assault victim services and more targeted crackdowns to arrest offenders violating the terms of their release.
She says while the new programs will cost the state more money, it is well worth it.
Gregoire says, "We need to be carreful about spending but we cannot be careful about spending and not invest and spend it in the right thing."