Coyote Ridge Expansion to have big Effect on Small Town Connell
Posted:
Updated: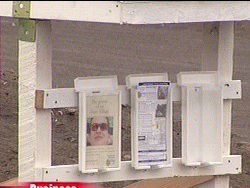 CONNELL, Wash.- It'll soon be the biggest prison in the state, in a town of only 3,000.
The new prison at Coyote Ridge is expected to change the landscape of Connell and the entire region.
Everyone seems to agree, the town will grow from it, new business and a growing population, but the thing people are worried about is whether the town can handle that, and the people who might follow the thousands of new inmates there.
At Connell's Burger Factory, the new prison is already making itself known.
"That's what keeps us busy is they stop by for lunch," said Evan Burton, who's family owns the restaurant.
"A lot of business, a lot of money, housing, it should bring a lot," said Richard Mitchell, who lives in the area.
"A lot of people believe there's gonna be a lot of problems with rifraff," said Sherry Lane, who also lives nearby.
The small town of about 3,000 is about to play host to the biggest prison in the state.
The new expansion at Coyote Ridge will add 500 new employees and more than 2,000 new inmates.
"There will be more people incarcerated in the city of connell than what we have people that are walking up and down the streets," said City Administrator Art Tackett.
The subject has drawn such concern Tackett commissioned a private study on it's effects, both good and bad.
Among them, whether the city can handle the hundreds of new people expected to move in, whether schools can handle more students and just how many people will move to Connell and not commute from outlying areas.
"Not having the businesses there then the folks that come in say well we can't shop there because there's nothing there to shop at, so have to go to the Tri-Cities, so we might as well live in the Tri-Cities," he said.
Jeff Arlington is the Connell real estate agent who's heading up efforts at a new 240 home subdivision near Connell High School.
"There's dirt's been moved, there's houses that've been built, and we only expect more and more growth," Arlington said.
Prison officials say they've already assigned six people to head up the hiring.
As many as 600 new employees could be on board by next year, the same number of inmates currently at coyote ridge.
"By May we will be hiring let's say an average of 30 staff a month then through the rest of the year," said Scott Frakes with Coyote Ridge.
Where will they go? That's a question the city is still trying to answer.
"Positive thing, i think for the community, but we do have to get past those hoops, which are housing and so forth in order to make that happen," said Tackett.
Connell has had to make a number of infrastructure improvements to handle the new buidling.
A new sewer system is one example, but the Department of Corrections has paid for all of it. The prison is set to open about a year from now.