What's Working - Yakima County Drug Court
Posted:
Updated: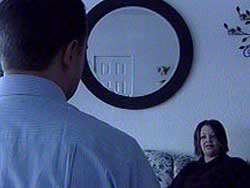 Yakima, WA - "What's Working" to fight drug addiction and related crime in Yakima County?
One answer to that question is the drug court program, which was started seven years ago.
28-year-old Jessica Knott is an amazing story, but not all that uncommon in the drug court program.
A meth addict for 12-years, she lost her family and eventually her freedom, but through drug court Knott says she's gotten a second chance to turn her life around.
"This is a picture of me right after I had my daughter," says Jessica Knott.
The picture was taken two years ago. Knott was still addicted to meth at the time.
She says it's been almost two years since she has last seen her daughter or her four other children.
"It was pretty bad. I was living in hotel rooms. Doing drugs all day," says Knott.
Sexually abused by her mother's boyfriend.
Knott left home for the streets at 13.
She had her first child at 15 and began abusing meth.
Rock bottom came last year when she wound up in a jail for a third time.
Knott faced a felony for drug possession.
"I didn't know what a goal was," says Knott, "I didn't know what I could do with my life. All I knew was doing drugs."
Knott says she found her faith in jail and through her chaplain got into drug court and a faith based recovery program called new beginnings in Selah.
"I believe drug court is the best answer to the revolving door problems of criminal justice," says Marty Lentsch, Director of the Drug Court Program.

The numbers back that up, Lentsch says more than 150-people have graduated from drug court and less than 15% have relapsed.
"With my faith based program and drug court, there is so much structure. I feel like I can move on."
That structure includes constant testing and counseling. The program is also very affordable.
Knott has been clean ten months and hopes to one day be reunited with her children.
She graduates from drug court this coming February.