Stores Open on Christmas
Posted:
Updated: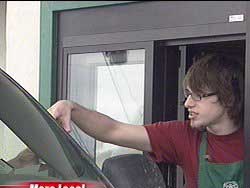 TRI-CITIES, Wash.--Many businesses are closed for the Christmas holiday, but we found a few in the Tri-Cities that were open.
Starbucks on West Clearwater Avenue in Kennewick opened their doors at 8:00 a.m. Tuesday morning. Staff members say their customers are like family so working today isn't a big deal.
Store manager, Larry Perez, says more than 10 employees volunteered to work the holiday and judging by the line of cars in the drive-thru, it's a gesture that didn't go unnoticed.
"That's a real treat to us," said customer Albert Gonzalez. It's a good christmas present. I can't believe they would open their hearts like that. We love that, it's real nice."
"I had to have my morning coffee first of all so, this is the first place I stopped," said customer, Scot Davidson
And do you know what goes great with coffee, movies!
Employees at the Hollywood Video store in Richland were in the holiday spirit. Working on christmas is "fun" according to one employee. But it's also convenient for customers who are looking to bring a little "Hollywood" home to their loved ones.
"They come in here to get a couple movies to take back home and watch with their families, enjoy Christmas together as a family," said employee, Derek Isaac.
Hollywood Video is open 365 days a year.