2 arrested in Carnation killings
Posted:
Updated: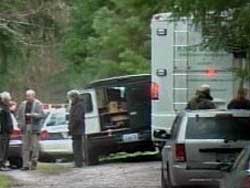 CARNATION, Wash. - The investigation is showing a dispute over money may have led to the shooting deaths of six family members Christmas Eve.
It happened at a home near Carnation just East of Seattle.
The pair arrested in the six killings were 29-year-old Michele Anderson and her boyfriend, Joseph McEnroe. Anderson is said to be the daughter of two of the victims. Both are expected to make their first court appearance today.
Among the dead were two young children, 6 year old Olivia and her brother, 3 year old Nathan Anderson. Neighbors say they were Michele's niece and nephew. Their parents, Scott and Erica Anderson were also killed along with Michele's parents Wayne and Judy Anderson who are in their 60's.
Neighbors say they are stunned. "Sorrow.. that any family has to face this at the holidays.. or any time." "Of course our thoughts and prayers go out to the family... it's not a happy time."
A 9-11 call came in the night of the murders but ended after about 10 seconds.
The operator reported hearing a lot of yelling in the background that sounded more like party noise than angry heated arguing.
When deputies arrived at the scene they stopped at a locked gate in front of the home and didn't pursue the incident further.
The bodies weren't discovered until a co-worker of a family member went to the home after not showing up for work yesterday and called 911.
The sheriff's office is now looking into why that deputy didn't follow procedure to find out more on who made the 911 call.