Six Murdered in Carnation and Police Arrest Couple
Posted:
Updated: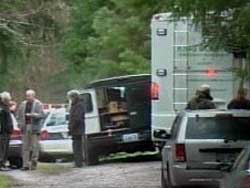 CARNATION, Wash. (AP) - A law enforcement official says a couple arrested in the deaths of six people, likely three generations of one family, are one of the rural property owners' daughters and her boyfriend.
The official speaking on condition of anonymity because he was not authorized to release the names says the pair arrested in the six killings in carnation were 29-year-old Michele Anderson and her boyfriend, Joseph McEnroe.
Both were booked into the King County Jail late Wednesday for investigation of six counts of homicide.
The King County Sheriff's office has not officially released the names of the suspects or the victims. But, according to public records, the owners of the property are 60-year-old Wayne Anderson and 61-year-old Judy Anderson.
Family friend Mark Bennett says the Andersons lived in a house there, and their daughter Michele lived on her parents' property in a mobile home with a male companion.
Bennett says he spoke with Judy and Wayne Anderson on Christmas Eve and tried to call them Christmas Day but could not reach them.
He told reporters he came to the property Wednesday morning after seeing the home on television news.
King County Sheriff's Sgt. John Urquhart says the suspects came to the crime scene after investigators arrived there this morning, were questioned by investigators, then arrested around 4 p.m.
Urquhart says investigators have not determined a motive in the slayings and have not found a weapon.
The victims included a boy about age 3, a girl about age 6, a man and woman in their 30s, and a man and woman in their 50s.
Their names were not released.
But Urquhart says they were "likely three generations" of one family.
Public records indicate that scott anderson is 32 and married. Urquhart says a 911 call was made from the house in early evening on Christmas Eve, but the call was hung up after about 10 seconds. T
he operator reporting hearing "a lot of yelling in the background...sounded more like party noise than angry heated arguing," but when deputies arrived at the scene they stopped at a locked gate.
Urquhart says the Deputies didn't go past the locked gate and he doesn't know why yet.
He says it's one of the things that the sheriff's office is looking at.