Yakima Murder Victim's Former Company Speaks Out
Posted:
Updated: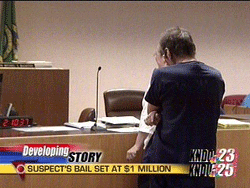 YAKIMA, Wash - Bail is set at $1,000,000 for a Yakima murder suspect. Detectives say 50-year-old Mark Huey has confessed to killing 61-year-old Charles Palmer on Monday. Police say Palmer's body was found in his own bedroom, tied up with a knife in his head.
According to a probable cause document written by detectives, Huey told police the murder happened accidentally after an argument. And the reason he tied up Palmer was to make it look like a robbery.
Detectives caught up with Huey at the Tourist Motel in Yakima Wednesday afternoon where he confessed to the murder. Huey told detectives that he was at Palmer's house on New Year's Eve when Palmer started to make aggressive sexual advances towards him. Huey said he pushed Palmer away and that's when Palmer hit his head on the wall and started bleeding. Huey told detectives that Palmer returned with a knife, which Huey says he wrestled away. Huey says he forgot the knife was in his hand and swung at Palmer. That's when the knife got lodged in Palmer's skull, killing him.

Detectives also say in the document that Palmer had gave Huey $300 to buy tools. Palmer's former employer Medstar Cabulance, who transports disabled people, say Palmer cared for people and could've been lending a helping hand.
"He has a special feeling in working with disabled [people] and people who are less fortunate than him. He always put a hand out for those who were in need," says Brad Bergener, the President of Medstar Cabulance in Zillah.
Bergener also explained, Palmer worked for Medstar Cabulance part-time a couple of years ago.
Huey will be charged with first-degree murder at his arraignment on January 7th.