Immigration Problems Addressed at Pasco Ag Show
Posted:
Updated: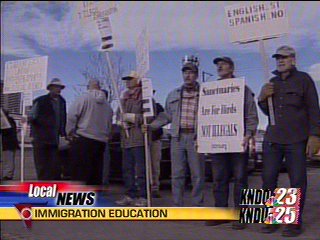 Pasco -- It's believed there may be as many as 150 thousand illegal immigrants in Eastern Washington alone. The hostility between those who want to give them rights, versus those who want them to go home continues.
In the nation's capitol five programs targeting the issue are under review. Here at home, farmers are pressing to know more. Many gathered the Ag show in Pasco this week to get the facts.
Gary Middleton, a Franklin County orcharist who grows organic apples, cherries and blueberries was at a well attended meeting this week. He said,
"This is a very emotional issue. People kind of lose the focus of what's involved in getting a green card, and they're caught up in political and social turmoil."
Middleton calls the conflict a "political hot potato." He says farmers in Washington State had hoped for movement in Washington DC. this year. Now, he says it may be 2009 before lawmakers "clear their heads" enough to make some decisions.
Tom Roach, a local lawyer well-versed in immigration law led the session this week. He indicated that under the guest worker program, it would be likely that only five thousand immigrants nationwide would be able to obtain their green cards, hardly enough to help the farmers in need of help in the fields.
Middleton addressed that issue. He said with an unemployment rate of 4.5 percent in America, the country isn't, as he said, making enough babies to fill the 12 million jobs out there.
So the controversy continues. And Gary Middleton is pressing forward on the issue. He said he plans to testify before the legislature in February.