Fight At Apartment Complex Leaves Man Behind Bars
Posted:
Updated: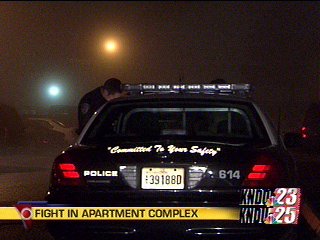 KENNEWICK, Wash.-- A fight breaks out in an apartment complex leaving a window broken and another man behind bars. Police say it all started with a heated argument between two women.

Police say they got a call from the Highlander Apartments Saturday night, on the 3000-block of 4th Avenue. It all started when 20-year-old Santiago Mora came out to defend one of the girls.
This in turn brought Marco Garcia out and he threw a punch at Mora. Marco was soon joined by five or six other men who started fighting Mora.
In the scuffle Mora was pushed into a window. A girl involved in the fight says she also suffered broken ribs.
Police were then called to a report of as many as 20 people involved in a fight. They say they have programs to make apartments more safe.
"When people sign up to live in these apartment complexes they sign a form that says, hey if we get a certain amount of cars from the police you can be evicted," said Sgt. Matt Newton, from the Kennewick Police Department.
Kennewick police, The Benton County Sherriff's office, and State Patrol responed to the fight. They eventually found Garcia, the man who initially swung at Mora, and used a taser on him after he resisted arrest.
He was arrested for assault, malicious mischief, and resisting arrest. All the other suspects involved had fled before police arrived. Fortunately the victim, Mora, was not seriously injured.