Red Robin Ready to Compete for Customers
Posted:
Updated: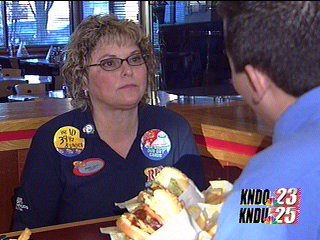 KENNEWICK, Wash. - With all the new restaurants coming in, competing businesses are feeling the need to keep their customers coming back. We met up with Red Robin employees who rely on some surprisingly intense training to keep them ready for the fierce competition.
The Red Robin in Kennewick is ranked number two for sales out of all the Red Robin Restaurant's in the country, and the Kennewick branch on Columbia Center Boulevard is taking no chances in preparing for tough competition. For employees, it's another reason to step up to the plate and review the fundamentals.
Quiz:"What temperature do we grill our burgers at?
Answer: 160 degrees."
That was just one question answered in a vigorous test between two trainers at Red Robin. They're training on everything from friendly customer service to what's on the menu, and Sales Team Trainer Bethann Phillips knows the importance of perfection. "Our food has to come out of the kitchen 100% picture perfect and we have to make sure the guest is happy at the end of the day."

Ashley Stohlman came in from Wisconsin to train at the Kennewick Store. She's working on her skills almost nonstop to make sure she get's the job done right. "Six days a week, 10 hours a day. I've been here for six weeks and I think I've had 2 days off since I've been here."
Employees are quizzed, drilled and tested to keep customers coming back.
"People know that they can come here, they can get excellent food and they can get good service and have a good time," says Phillips.