Memorial Service on Sunday for murder victims
Posted:
Updated: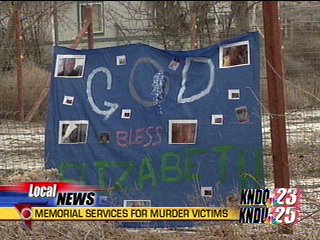 After two brutal murders in West Richland in December, Ellen and Elizabeth Schalchlin will be laid to rest this weekend.
A whole month after that gruesome day, the memorial services for Ellen and Elizabeth Schalchlin will be this Sunday.
The two were stabbed to death in their West Richland home on December 19th. Ellen's 15 year old son Donald Schalchlin is accused of helping cover up the murders of his mother and sister.
He has plead not guilty to rendering criminal assistance in the first degree and will be tried as a juvenile.
His friend 16 year old Joshua Tucker has been charged with two counts of premeditated first degree murder, Tucker will be tried as an adult.
Ellen's older son Steven says he's still sad about losing his mom and sister, but he is finally starting to feel closure and is thankful for what the community has done to help.
He says he's to a point where he will finally know that they are going to get put to rest and it's bringing a round a sense of closure. He says people have been more than generous with their donations and it's making it possible for him to have the memorial service his mom and sister deserve.
The services will be held this Sunday January 20th at 11:00 am in the Ki-Be Middle School in Benton City.
Memorial contributions can be made in Ellen and Elizabeth's name at any Sterling Savings Bank.