Blue Mountain Telecommunications Burglarized Again
Posted:
Updated: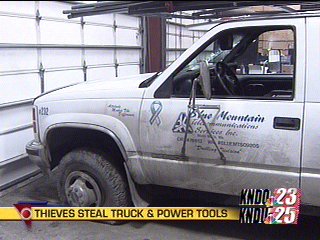 PASCO, Wash.--Crime has become an annual event with Blue Mountain Telecommunications since 2005. Last Sunday morning, the alarm company called owner Mark Fortune. He called one of his employees to check it out.
"Got up, got dressed and went out to our shop there but I didn't go inside the fence," says Supervisor Dan Barcomb. Everything seemed secure from the outside."
Fortune believes the suspects got through a fence to get on the property. Footprint tracks could seen leading around to the back of a warehouse. Inside, was a pick-up truck full of expensive equipment.
"(Suspects) loaded up all of the welders, all the high dollar stuff and built the truck up and when they were ready to go, they opened the door, cut the lock and drove off," mentions Fortune.
And this isn't the first time. In 2005, another pick-up truck was stolen off the lot. One year later, thieves took a welding truck and destroyed it.
"We lost a portable Welding truck which they took out towards Starbuck (Washington) and stripped clean and ignited. It burned for probably 36 hours," says Fortune.
But Fortune and Barcomb say they're not about to slow down. They've got work to do.
"Blue Mountain's company motto is attitude makes a difference and if you have a bad one, you might as well stay home," exclaims Fortune. We don't believe in quitting. I've been beat down before."