"Habitat" Homes Raise Yakima Property Value
Posted: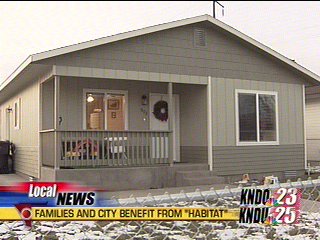 YAKIMA, Wash. -- The City of Yakima's total property value is increased by $5.2 million dollars because of homes built by Habitat for Humanity.
The non-profit organization started a branch in Yakima in 1985. Since then, 58 homes have been built for low-income families.
"It's almost hard to describe. Not only having a home, but having a new home," says Javier Lopez, who helped build a 'habitat' home for his family of seven. The Lopez's were renting before moving into their new home in November.
"Habitat gives families opportunities they wouldn't normally have," says Lopez.
City officials recently signed a contract with Habitat for Humanity for the use of $38,700, which will go toward the purchase and preparation of two new 'habitat' homes.
"The infrastructure is there, generally in our old neighborhoods," says Bill Cook, Director of Community and Economic Development. "But those vacant lots are an inefficient use of the land we have in our community."
In order to be eligible for a home, the family must put in 500 hours of "sweat equity" on their home and other 'habitat' houses.
The homes are generally assessed at around $100,000. However, they are sold to the family for $70,000 to $80,000. The family can purchase the home with a zero-interest loan.