Unlimited Hydroplane on a pole greets visitors to Tri-Cities' Columbia Park
Posted:
Updated: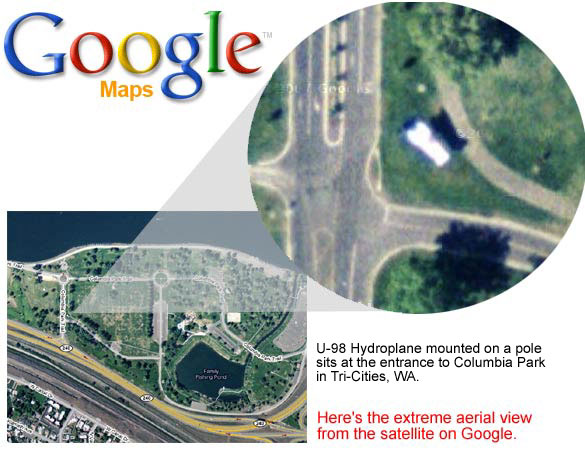 If you driven into the main entrance at Columbia Park in Tri-Cities, WA, you may have noticed there's a hydroplane up on a pole. It's designated the U-98 and Keith Bowers' name is on it as the driver.
As Paul Harvey might say, here's the rest of the story...
In 1998, a group of volunteers led by John Culver built the boat out of a smaller boat. The goal was to have it completed and put up before our race and before Keith Bowers had passed due to a battle with cancer.
Keith was chosen by the group as the official driver of the U-98 and given a long term contract for many reasons.
Keith was one of the 5 founding fathers that brought unlimited hydroplane racing to the Tri-Cities. Keith was a different father though; He was a man who would be out in the trenches with you and not afraid of the work ahead. He put in countless hours in the park and enjoyed every minute of it.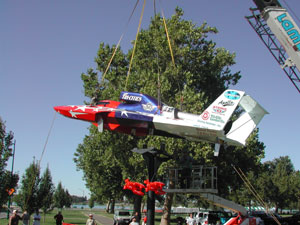 In 2006, Kevin Smith led a second group that did extensive work on the boat. Being out in the weather 24/7 took a toll. They spent about five months fixing it up and repairing damage to the wood and gave it a brand new paint job.
As part of the updating, they wanted to continue the legacy and pay their respects to Keith by keeping him in the cockpit and extending his contract. That's exactly what they did and how it sits today.
Photo: Re-built and re-painted, the U-98 is lifted back onto its pole at the entrance to Columbia Park.
Thanks to Kevin Smith for providing the back story and the photos of the 2006 work.