Gang bill introduced in state legislature
Posted:
Updated: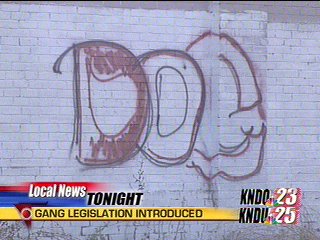 Yakima, WA - A local legislator introduces a comprehensive bill to fight gangs in Washington State.
The bill was put together based on recommendations from a statewide gang task force.
Several local cities in the Yakima Valley have already tried to pass ordinances that get tough on gangs, but legal issues have made it difficult for them to be enforced.
The hope is this statewide gang legislation can pass the legal test and provide a more comprehensive approach to fighting the problem with cooperation across the state.
State Representative Charles Ross introduced House Bill 2710 this morning.
It's a bill he's co-sponsored. Ross served on the gang task force with several other local representatives.
The bill starts with creating a statewide definition for gangs, something that couldn't be done effectively on the city level.
But it also offers other solutions including putting together a statewide gang database, funding and witness protection programs.
"In Yakima County, I think it will help us define what gangs are... a true definition," says Harold Delia, Yakima Court Consultant, "It will provide money for prevention, intervention and suppression, which we badly need."
Delia works closely with gang members who get shuffled through the court system.
This new bill also includes grant money for five pilot projects to fight gangs.
He's putting together a proposal for Yakima and says it could mean up to a million dollars in funding.
A public hearing on the bill is scheduled for this coming Monday.