No State or Federal Aid for Walla Walla Residents
Posted:
Updated: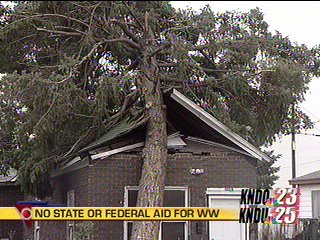 WALLA WALLA, Wash.--When a windstorm ripped through the city in December 2007, it left behind devastation. At the time, both Rhadora Pruyne and her sister Aurora were putting together a puzzle inside their motor home.
"When the tree fell, my heart fell," said Rhadora Pruyne. I didn't even want to move. I was afraid to move, afraid to get out of the motor home. Everything collapsed."
And right now, moving on is tough for the Pruyne sisters. They were counting on state or federal aid to help them buy a new home. But that isn't going to happen.
Walla Walla emergency manager, Don Marlatt says his office received roughly five reports from people without insurance. To qualify for aid, they needed 25.
"I'm still in shock," mentions Aurora Pruyne. I just don't know how we're going to get the repairs done or even move. Financially, we are not able to move."
"We have just our social security and no help," says Rhadora. We don't know what to do."
Rhadora says she just bought the motor home in December (2007) and didn't even make the first payment yet. But with nowhere else to go and little money for temporary shelter, Rhadora and Aurora had to cover their home with blue tarp.
"We had to cover the hole for warmth and safety from the rain, no more damage ,and the wind was ripping through here like crazy," exclaims Rhadora. We were freezing to death."