Tips for Identifying Gang Activity
Posted:
Updated: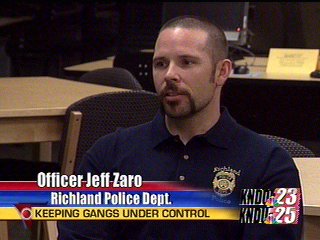 RICHLAND, Wash. -- Richland Police Officers met with parents at Hanford High to make sure gangs don't become a problem in the Tri-Cities.
They say it's important to know how people can identify gangs so they can report them to the police. Officers said that right now gangs are not a big problem in the Tri-Cities but they are preparing for an increase after a flare up in activity last summer at Richland parks.
In the Tri-Cities, most gang members are Sureños, meaning "southerners". They are characterized by the color blue, the letter "M", and the number "13".
Many times they use these symbols both on their tattoos but also on graffiti to mark their territory and threaten rivals. Officers say it's important for people to understand what to look for when trying to identify gang activity.
Officer Jeff Zaro says,"Once the community starts to see that there is a gang problem it is too late. I don't expect my relatives and my mom to know what gang members look like."

Officers say along with certain symbols, many times a person wearing a lot of blue or red clothing is identifying a certain gang. The problem, officers say, is that there is no hard and fast rule on how to identify a gang member.
They say if you are suspicious about gang activity, call police.