Friends and Family Remember Benjamin Lockard
Posted:
Updated: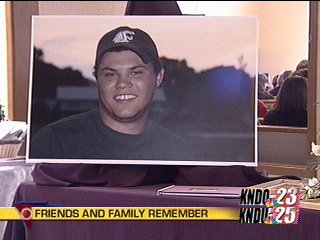 RICHLAND, WA.-- On January 12th a crash on U.S. Highway 95 took the life of three young students. Among them was Benjamin Lockard.
He was killed instantly after the Isuzu SUV he was travelling in, hit a patch of ice and slid into the southbound lane where it was hit by a Chevy Suburban.
Ben touched the lives of many in this community, and those who knew him best came together to celebrate his life and what matters the most.

"You know we're not here today thinking about all the stuff Ben had, money he had or anything, we're here because he touched everyone of our lives," said Jon Lakey, one of Ben's close friends.
Parked outside the cathedral was his green Jeep, just like Ben would have wanted it.
"Ben was so much into hunting, and fishing and the outdoors, that they wanted to bring that in and make it part of the service," said Pastor Marty Armstrong, from the Cathedral of Joy.
Inside a collage of pictures showing just some of the best memories left behind. A project that pushed the family through this time of mourning.
"They've really stuck together as a close knit family, worked as hard as they could to make this service a meaningful time for them," Armstrong said.
All those who knew him remember his good spirit and positive attitude, and even a lesson his friends know, he would have wanted everyone to learn.
"I know that if there's one thing he would have wanted us to learn from all this, it's just don't pass up the opportunity and the moments you have in life to do something," Lakey said.