Proposed Yakima Mall Brings Traffic Concerns
Posted:
Updated: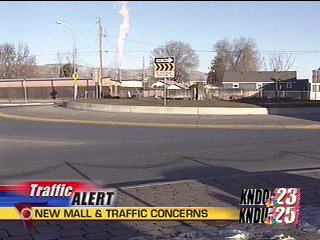 YAKIMA, Wash - Plans have been in the works for a new mall on the north side of Yakima, but with that comes traffic concerns. Some also worry about pedestrians, since the Greenway Pathway is nearby.
The new Riverpointe Landing mall will sit along Highway 12 and 16th Avenue. Already a high traffic area, about to get more crowded.
"During the peak hours of the day, I would expect a lot of cars to be there, but I think they will continue to move," says Bruce Benson, the Planning Supervisor.
The plan is to put a roundabout on the offramp to 16th Avenue. Much like the one already on Fruitvale Boulevard and Fifth Avenue. The roundabout may not let cars stop, but it is along the Greenway.
"We know there is going to be a dramatic increase in the amount of traffic and that will increase the number of opportunities to have a bicycle or pedestrian versus vehicle conflict," says Al Brown, Executive Director of The Greenway Foundation.
Staff at the Greenway Foundation are in favor of the new mall and realize there is no way around the traffic on 16th.
"We would much prefer to have our pathway and our people on the Greenway completely separated from traffic, but in this particular case there was no real way to do it. We have to be on the bridge, so we just ask people to be careful there," explains Brown.
The plans for the new mall have already passed an environmental review. Construction could begin as soon as this spring.