Church organizers are scrambling to find more volunteers to open third shelter in Yakima
Posted:
Updated: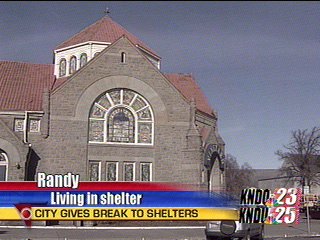 Yakima, WA - The extreme cold is causing homeless shelters in Yakima to become overcrowded.
The Yakima Homeless Network is scrambling to train more volunteers to open up a third shelter, but they did get some good news today.
The city's code administration will give them a little leeway for now.
Shelters will be allowed to taken in more people than normal at the other two shelters.
"You start a fire. The fire goes out. You won't wake up," says Randy, who has been staying at shelters in Yakima for two months no.
He says staying a in shelter in these weather conditions can be the difference between life and death.
"Very, very dependent. Wouldn't know what I would do without one of these (shelters)," says Randy.
He spent the day doing some community service work at the Vineyard Christian Church so he doesn't have to be outside in the freezing temperatures.
"We're permitted 30 beds," says Dave Hanson, Assistant Pastor with the Vineyard Christian Church, "We've been stressed for the last few nights. We want to be compliant with city allowances."
But Hanson admits that's impossible, unless they turn people away.
City leaders are allowing him to let more people stay over night on a temporary basis.
He says that could be as many as 40 people at The Vineyard and Stone churches.
"We need at least 20 more volunteers to open a third shelter," says Hanson, "And we could use another 40 or 50 volunteers."
If you want to become a volunteer, Hanson says you have to be trained first.
Another training session will take place on January 31st from 6:30pm to 8:30pm at Central Washington Comprehensive Mental Health.
He pushed it back to next week so that more people could have the chance to sign up.