Father Plans Lawsuit After Suicide at Franklin County Jail
Posted:
Updated: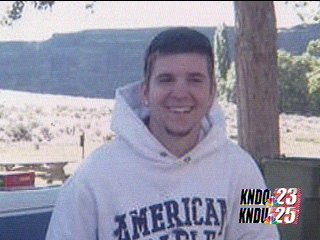 PASCO, Wash. -- New information about a 20-year-old man who took his own life in the Franklin County Jail.
Cameron Shelton's family is asking whether anything could have been done to prevent his death. Harold Shelton says he has many questions rearding his son's treatment at the Franklin County Jail.
The Sherriff's Office says jailers did nothing wrong and that this is the first time in 21 years that someone has committed suicide inside the Franklin County Jail.
Friday afternoon, 20-year-old Cameron Shelton was moved into an isolation cell because of bad behavior. That happened at about one. Then, at 3:15, another inmate reported to jailers that Cameron had hung himself with a bed sheet.
An inmate named Frank, who says his cell was next to Cameron's made a collect call to Cameron's family today to explain what happened.

Frank says, "I was talking to my friend Angel and I told Angel to go ask why Cameron was in the hole. He found him hanging."
Wednesday, Cameron's father says he thinks more could have been done to save his son.

Harold says, "They are supposed to make sure that an inmate cannot harm himself or someone else."

He asks specifically why more checks were mot made on his son and why while in an isolation cell, his son was still able to kill himself.

KNDU asked for jail logs of how many times Cameron's cell was checked but Sheriff Richard Lathim said we would have to wait for those documents.

Lathim did say that it is the jail's policy to check an isolation cell at least once an hour, if not more.
He says, "We checked that tank many times in that two hour and fifteen minute period."
Sherriff Lathim says that his jailers did nothing wrong and that they acted correctly given the situation.

He says, "If there is anyone to blame, it is Cameron Shelton."

But, Harold Shelton says he feels the system let his son down.
He says, "I think they're not telling us the truth of what happened."
Sherriff Lathim says that there were no signs that Shelton would commit suicide. Harold Shelton says that his son had attempted suicide before and he should have been watched more closely.
Shelton is planning to file a lawsuit right after his son's funeral.