Mabton Police Department trying to cover shifts with two officers out
Posted:
Updated: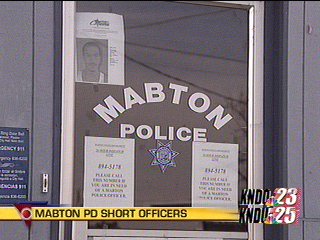 Mabton, WA - The Mabton Police Department doesn't have enough officers to fill all its shifts.
The police chief and the city council have tried to hammer out a temporary solution.
Right now, the department is down two full time police officers and, due to budgets cuts, a third full time position was never replaced when the officer left for a job in Toppenish.
"Mabton is a small town," says Peter Jossa, owner of The Silver Dollar Bar and Grill, "The population is 2,000 people and it's a quiet place."
But not without crime... graffiti and gangs have been an ongoing problem in Mabton like so many other cities in the lower valley.
"Scary anywhere, not only in Mabton, but anywhere in the country," says Jossa.
He was at the city council meeting last night and stunned to learn about the staffing crisis at the police department.
"Probably had 18, 19 calls (this week)," says officer Mike Britton of the Mabton Police Department, "plus work with schools and paperwork. It's just overwhelming."
Officer Britton says the Mabton Police Department is already stretched thin with an officer in training at the police academy, so when another officer injured his knee in a scuffle with a gang member over the weekend, they finally reached a breaking point.
"Still going to be a couple of gaps, but the officers assigned to those gaps are going to be on call," says Chief Robert Perales.
Mabton no longer has 24-hour police coverage.
The city council is shifting money around to make part time Chief Perales full time for now.
He is on paid administrative leave with the Granger Police Department, so the Mabton City Council can take the money they normally pay out to Granger for his services and hire him on full time.
They have also hired a reserve officer for 16-hours a week.
But residents are still concerned about crime, especially if criminals hear about the problems with Mabton's police force.
"If they find out about the lack of police force. It won't take long for them to start showing up," says Jossa.
Chief Perales says they should be able to maintain the current staff on the police force indefinitely.
Right now, he doesn't know how long the injured officer will be out.
The officer at the academy won't be back until April.