Innkeepers' Mentorship Program
Posted:
Updated: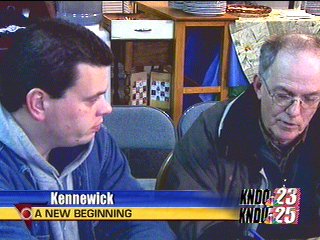 KENNEWICK, Wash. -- A new program aims at getting ex-convicts back on their feet and into new jobs. Organizers say the new Innkeepers' mentorship program is quickly having substantial results.
Innkeepers organizer Lee Moses says that he spent time in prison and he knows how hard it is to get back to a normal life. That's why he started the mentorship program, to allow people who have made mistakes in the past, to have a chance to make changes for the better.
The buzz of excited conversation fills the weekly Innkeepers meetings and while the group is small so far, those being mentored are already singing the program's praises.
Don Gibson spent a year and a day in prison for possession of cocaine and he says when he got out two weeks ago, the mentor program was right there to guide him to get what he needed and to help him find a job.
He says, "I've gotten my driver's license, social security card, my birth certificate is coming. I might not have done it if I was out on the streets."

Bud Neslin works with Gibson and others as one of the mentors to the program. He says he and other members of the West Highland United Methodist Church are glad for the chance to help out.
He says, "We just have a real desire to give back to the community that's been so generous to us, I guess."
Justin Sullivan spent 14 months in prison for possession of drugs and says he appreciates the helping hand Innkeepers is giving him.
He says, "It keeps you more responsible. You got someone on you making sure you stick to your goals, where before you could easily blow them off before."

And while right now organizers say the program has only 9 people being mentored, they hope as word spreads, they will have the chance to give more people the tools they need to make a positive impact on society.
Thursday's was the third mentor meeting. They are held every Thursday at Innkeepers at 219 North Date Street in Kennewick at 7pm. If you want more information, call: 582-9502.