Heavy Snowfall Causes Flight Cancellations at Tri-Cities Airport
Posted:
Updated: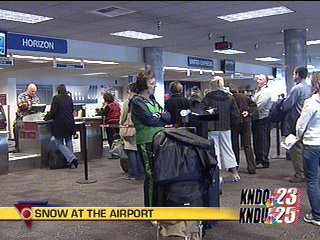 PASCO, Wash.-- At the airport travelers were waiting for the next flight out. Everyone had somewhere to go, and no way to get there.
"I arrived this morning at about 7a.m. and they had canceled our first flight which was about 6:30 a.m., and then they re-scheduled for 8:00 a.m. and that flight was canceled and they re-scheduled for 2:10p.m. and that flight was canceled," said Sheila Godfrey, who was traveling to Oakland.
Most people were traveling for business.
"Our group was trying to make it to St. Louis Missouri for a business meeting over there," said Craig Gregory, who was traveling for business.
"We're picking up a concrete pumping truck in Las Vegas, and have to deliver it to New Jersey," said Jerry Pace, also traveling for business.
And those traveling for pleasure were forced to change their plans. Like this woman heading to Maui.
"Yes, absolute pleasure and golf and play bridge with our friends, and oh we have to be patient, lose a few days," said Orrel Walser, who was heading to Maui.
But in spite of the weather and delays, travelers say there's little they can do and some are just giving up on waiting.
"All of our flights have been canceled since 6:30 this morning, and I think we're just going to go home," said Keri Pace, traveling to Las Vegas.

"It's a little bit frustrating, but you know I'll live," said Godfrey.
"Everybody is really nice, there's nobody stamping their feet or getting really ugly or anything," said Viktoria Milhauser, who was traveling to Arizona. "I mean I've traveled around the world and everybody is handling it quite well and they're very friendly here, very very friendly," she said.