WA lawmakers hear testimony on expanding domestic partnership law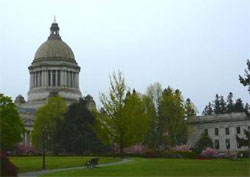 Associated Press - January 29, 2008 4:25 PM ET
OLYMPIA, Wash. (AP) - Lawmakers heard testimony Monday on a measure that would expand the new domestic partnership law.
Committees in the House and Senate both are considering bills that would grant same-sex couples more than 170 of the benefits and responsibilities given to married couples, including property and guardianship rights.
Supporters note that the bill only covers a fraction of the 485 rights and responsibilities married couples have.
The 199-page bill makes several changes to state law, including requiring domestic partners of public officials to submit financial disclosure forms, just as the spouses of heterosexual officials do.
The measure also would give domestic partners the same spousal testimony rights that married couples have, allowing domestic partners the right to refuse to testify against each other in court.
The bill makes changes to dozens of sections of state law, adding domestic partners to sections where previously only spouses were mentioned, including sections about probate and trusts, community property and homestead exemptions, and guardianship and powers of attorney.
Copyright 2008 The Associated Press. All rights reserved. This material may not be published, broadcast, rewritten or redistributed.