Marine Shop Destroyed At Port of Pasco Fire
Posted:
Updated: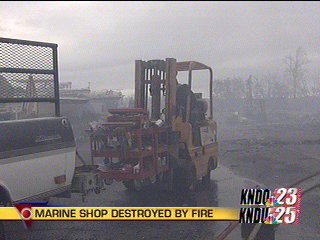 PASCO, Wash.-- Twenty years worth of work, all gone in one day. Willi and Lisa Judd still can't believe it's all gone.
"Oh it's totally a surprise, and then it was just moving what we could as fast as we could, trying to save what we could," said Lisa Judd.
They're the owners of Willi's Marine Service, a boat repair shop right on the port. Willi says when the fire started at noon they were able to get some property out of the shop.
Once fire crews reported the fire was contained they moved some of it back inside, but it wasn't long when the fire started up again and things got worse.
"It erupted again so we doubled their efforts, fortunately we had more people here at the time and we got a lot more out, but we certainly didn't get everything," said Willi.
Willi says he can't put an amount to all the damaged caused, but that wasn't the case for another business owner. He came by to take a look, and says among some of the loss property is close to $1 million worth of machinery.
Willi says just last Thursday the plastic warehouse where the fire started had a smaller fire.
"I don't know actually how many fires they've had, but one should have been enough," Willi said.
And it might have been enough to prevent all the damage. In spite of it all, Willi and his family are trying to stay calm, because there's little they can do.
"What's burnt is burnt, and you cant do anything about it," he said.
Port of Pasco officials say they've offered Willi and other business owners a place where they can store some of the property they've recovered, until they can find a place to relocate.