Several Properties Flood Near Badger Canyon
Posted:
Updated: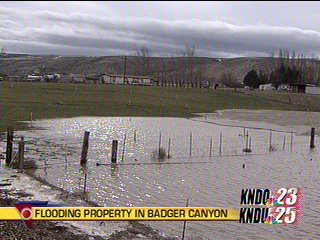 BENTON CITY, Wash.-- Several driveways around Badger Canyon are covered in mud. 17-year resident Rick Tyrrell says he hasn't seen it flood like this since 1997, but this damage seems worse.
"Yea we have a hole in our driveway right now, I filled it up but it's still squishy," he said.
He says the water was about six to ten inches deep and was running through 4 or 5 other driveways. Rick contacted the County for help, but because the roads are private property there wasn't much they could do.
Still Rick is getting prepared for more to come.

"We're going to fill it in, in case it rains again which we have rain coming probably," he said.
Residents say one property on the next street was hit the hardest. The Longmeiers have been living in this area for over 20 years. The water around their property resembles a beach front, but Theresa says it was worse.

"Everywhere you see brown was water yesterday," said Theresa Longmeier, another homeowner.
She says all this is a combination of melted snow and water coming down from Horse Heaven Hills. Just recently she put in new pasture and sprinklers and made this a special project, one that is now gone.

"The one thing I actually, we accomplished, it was like my big thing, was getting all that in last year and so now we see it all floating away, but I mean it's not floating away we can fix it, that's all we can do," she said.