Yellow License Plates for Convicted DUI's
Posted:
Updated: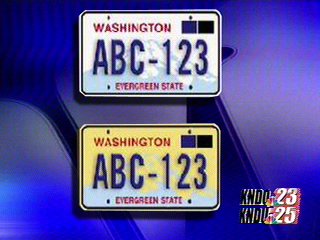 OLYMPIA, Wash. - Sen. Mike Carrell wants everyone on the road to know who's been caught driving drunk.
He's sponsoring a bill that would require people convicted of drunken driving to put fluorescent-yellow license plates on their cars for one year or once their driving privileges have been restored. "I've talked to the law-enforcement agencies and they think it would be an awfully good idea to have a way of visibly telling sheep from goats out on the road," said Carrell, R-Lakewood. It also could help law-abiding drivers as a signal to give a wider berth to anyone behind the wheel of a car with bright-yellow plates, Carrell said.
But not everyone agrees that such a public designation is the best way to go after drunken drivers.
"The first thing it reminded me of was reading 'The Scarlet Letter' in high school," said Sen. Brian Weinstein, D-Mercer Island, referring to Nathaniel Hawthorne's 1850 novel in which the heroine must wear the letter "A" on her chest as punishment for adultery.
"Obviously I am opposed to drunken drivers. I think everyone is," Weinstein said. "But I don't think this is going to solve anything, and it will have the unintended consequence of embarrassing a lot of innocent people."
The bill, Senate Bill 6402, was approved last week by the Senate Judiciary Committee and now is before the Transportation Committee.
DUI offenders would be charged $10 per plate for cars. Motorcycles and mopeds would require just one plate, at a cost of $2.
Ohio, Iowa, Minnesota and Oregon have similar requirements for DUI offenders. In Ohio, people convicted of drunken driving are issued yellow plates with crimson numbers. In Iowa, their plates contain the letter "Z." Offenders in Minnesota are issued plates that bear a unique series of numbers, and in Oregon, convicted drunken drivers display a special sticker on their license plates.