What's Working - Filling the need for more doctors in rural communities
Posted:
Updated: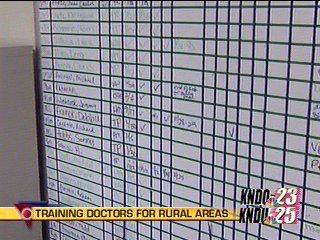 Yakima, WA - What's working to fill a critical need for more doctors in rural communities in the Pacific Northwest?
One answer to that question is a new osteopathic medical school that's under construction in the Yakima Valley.
This is a growing healthcare crisis, not only in states like Alaska, Montana and Idaho, but here Washington.
The State Health Department says 38 of 39 counties are medically underserved, that includes many rural communities in the Kittitas and Yakima Valleys, as well as the Columbia Basin.
"When you hold it, hold it like this," says Dr. Paul Emmons, a family practitioner in Selah.
30-year-old Stephanie Sundquist is trying to get a jumpstart by shadowing Dr. Emmons.
"I assumed I was going to have to go somewhere far away," says Sundquist, "Somewhere on the east coast."
Sundquist grew up in Terrace Heights and never imagined a medical school in her backyard.
Now, she will be a member of the first class of students at Pacific Northwest University.
"What we plan to do is take people from the area, train them in the area, so they are more likely to stay in the area," says Dr. William Betz, Dean of Pacific Northwest University of Health Sciences.
More specifically, smaller, underserved communities throughout the northwest.
"This board shows all of our active candidates," says Graciela Lopez, recruiting manager for the Yakima Valley Farm Workers Clinic and its eight other facilities in Washington and Oregon.
More often than not, it's a nationwide search.
"Almost always," says Lopez, "We'd like to recruit locally. It's just not always possible."
But it will be one day, when Stephanie Sundquist puts on a white coat for the first time.
"I really feeling like growing up here, the people have given so much to me, so it will be nice to help them," says Sundquist.
Pacific Northwest University will provide much needed to help for a targeted healthcare need, but it's still a long ways away.
The first class starts school in the fall - that's amounts to 70-students - and won't become fully trained doctors for another eight years.