People in Burbank Shake Their Head at High Electricity Prices
Posted:
Updated: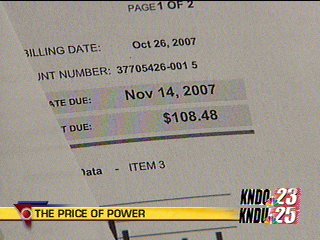 BURBANK, Wash. -- The price of electricity has people shaking their heads in Burbank. But the power company says providing power is just costing more.
People KNDU talked to said they have called their power company asking for an explanation for the increase and have been given a few different reasons.
Up, up, and, up; that has been the story with Virginia Gutierrez's power bill over the last few months, from $108 to $191 to $249. And she says other people she has talked to have said their bill is as much as $330.
Pacific Power, the company that does Virginia's power as well as a good portion of Burbank's says there are a number of reasons for the increases. They say first, the Bonneville Power District, a federal power agency, dropped credits they were giving to power company's for hydroelectric power. That represents a 17% increase.
Second, they say the cost of providing power has gone up, leading to another 6.5% increase last year. That is a 23% increase when put together. Pacific officials say they aren't pocketing the money. They say their rates are heavily regulated by the government and they can only make a certain percentage in profit

But people like Virginia just feel the price is too high. They say when they have seen $60 or $70 increases in their bill, something is not right.
Pacific Power spokesman Tom Gauntt says the company has submitted another 14.6% increase but it still must be approved by the Utilities Commission. If approved, it would go into effect in January.