Family and Friends React to Hilton Guilty Verdict
Posted:
Updated: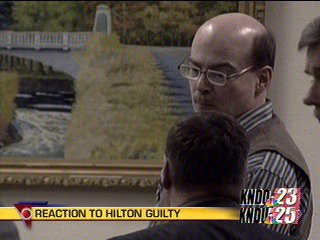 RICHLAND, Wash.- Kevin Hilton faces life in prison after a jury found him guilty for the second time of killing his Richland landlords.
This would still be a very emotional time for anyone going through something like this, but for friends and family of the Ulrichs, it's the second time they've been through it, making it that much tougher.
It's been almost six years since Kevin Hilton killed his landlords Larry and Jo Ulrich inside their Richland home.
Two trials, two juries and one appeal later, the case finally seems settled.
"They were very nice people. It was scary, and you know, I was surprised that it's taken this long to really get everything settled," said Deena Sanders, who lived next to the Hilton's at the time.
It's the second time family and friends have been through this.
In 2003, a jury first found Hilton guilty but an appeals court overturned the convictions.
On Thursday, a jury once again found Kevin Hilton guilty of killing Larry and Jo Ulrich over more than $3,000 in back rent.
The ulrichs' family tells KNDU the second guilty verdict speaks for itself.
Sanders says she's glad to see it over.
"I'm very surprised, yeah, I really thought it would be over a long time ago."
Lee Faragher didn't know the Ulrichs, but has a different connection.
Faragher lives in their old Thayer Drive home.
KNDU spoke to him just feet from where the deadly shots were fired.
"That's no different than living anywhere else, it's just a house," Faragher said.
For the Ulrichs' family, they say they're just glad it's over.
Lawyers say Hilton will be sentenced sometime next week.
He faces the same sentence we was given the first time around, life in prison without the possibility of parole.
His defense team says they were surprised by the jury's quick verdict. It came down after only seven hours of deliberations.