Red Wine and Chocolate Kicks Off Today
Posted:
Updated: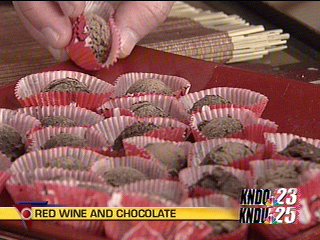 WAPATO, Wash. -- Wine season began today with Yakima Valley's annual Red Wine and Chocolate event
Red Wine and Chocolate is the fastest growing event here in Yakima wine country after the spring barrel tasting, and with today's nice weather many people headed out to the vineyards to try out the wine and chocolate.
First-time wine taster, Jill Thiele said, "I thought chocolate went with milk or coffee, but it really is good with red wine."
That's what many people think before they attend red wine and chocolate.
At the Sagelands Vineyards experts work hard every year to pair the most delicious wine the valley has to offer with the perfect chocolates.
"We spend some rough hours you know researching and its pretty much me and another gal that works here," said manager Brenda Ferguson.
Red wine and chocolate is an annual event put on by Wine Yakima Valley.
This year they have more than 52 wineries and vineyards participating and they expect between 3-4,000 people to come through the valley.
Barbara Glover the Executive Director of Wine Yakima Valley says this is the perfect time for customers to get a preview of what's to come.
Glover says, "Its also the time that we see a lot of new releases in the Valley. A lot of the wineries are featuring new releases for the season."
If you have never been to a wine tasting before then Red Wine and Chocolate maybe the place to begin.
"You don't have to know anything about wine before you start. They have really nice people working here that will give you lots of information," said Thiele.