Prosser Memorial Hospital asking for help with ambulance funding
Posted:
Updated: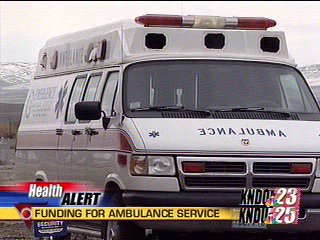 Yakima, WA - Some cities in Benton and Yakima Counties could see a big reduction in ambulance service, if they can't come up with $250,000 in the next month.
Last year, Medicare unexpectedly announced it wasn't going to fully cover ambulance service anymore.
That put hospital leaders in a pinch to come up with a short and long term way to keep the current service going.
"That can be a life or death situation," says Eric Mahoney, a homeowner in Grandview.
News that a big reduction in ambulance service could come as soon as May 1st, caught people in Grandview off guard.
Prosser Memorial Hospital leaders say that if they don't get the necessary funding, the Grandview EMS station will have to be shutdown and response time to emergencies could double.
Grandview and Prosser are on the hook for $92,500 and $85,000 respectively.
Mabton has been asked to pay $10,000.
Benton and Yakima Counties need to pony up another $62,500.
All this is just to keep service going this year.
"They're dealing with very restricted budgets and we understand that," says Jim Tavary, CEO of Prosser Memorial Hospital, "They're going to work on that. They're doing the very best that they can to see what's available to them in the way of funding."
For long term funding Tavary says they have no choice but to ask voters to foot the bill with a property tax.
"It sounds all good," says Mahoney, "But then we vote on it and all of a sudden they change it up. We see services get cut anyway."
"It's probably the lesser of two evils," says Sheri Pina, "I would rather pay a little more in property taxes rather than not have ambulance service and risk somebody's life."
Just to be clear, ambulance service would have to be reduced, not cut entirely...
We tried to talk with e-m-s personnel about the issue, but they were too busy responding to calls to talk with us.
All cities and counties involved are supposed to start looking over the two proposals this week.