Washington Primary Voters Speak Out
Posted:
Updated: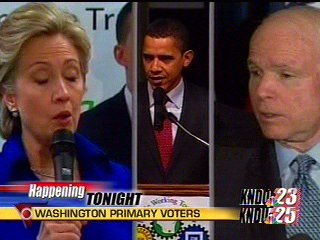 KENNEWICK, Wash.-- Less than one day left for voters to mail their ballots. Many of them didn't wait until the last minute.
"I've already mailed in my ballot, I care about my future," said Brian Paxton, who has already mailed his ballot.

"I guess I just wanted to make sure I had it in on time," said Marie Nash, who also has mailed her ballot.

"My grandma was pretty persistent about me mailing it in, because she's the one that got me registered," said Michelle Merrill, another voter who has mailed her ballot.
But some still haven't made up their minds, and say they want to think it through before rushing to decide.

"I have it at my house, I just haven't mailed it in yet," said Juan Grajeda, a registered voter.

"I'm still waiting to hear what some of their perspectives are on the issues," said Nancy Kimsey, a voter waiting until Tuesday to mail her ballot.
Washington is the only state in the nation to use both caucuses and the primary to nominate a presidential candidate. Democrats have already chosen Obama as their candidate and many are in support of this choice.
"I like Obama, I really do," said Paxton.

"Actually I was an Edward's fan, but I voted for Obama," said Nash.

"Yea he's keeping it real," said Jackie Flores, who isn't registered to vote, but sides with Obama.
Republican voters on the other hand have a set of candidates to choose from.

"I felt like it's going to be Mike Huckabee," said Kim Lowe, a registered voter.

"I think Huckabee has a good chance of taking the nomination and taking the primaries," said Kimsey.

"What ever happened to Ron Paul though?," said Ramey Mills, who hasn't yet mailed his ballot.
But Democrats and Republicans have one thing in common. Both say they're ready for change.

"It will be nice to have something new, a different or a fresh set of ideas," said Paxton.
"I think it's a good time to see a new president in office," said Lowe.