Yakima Police look for suspects in teen murder, family wants answers
Posted:
Updated: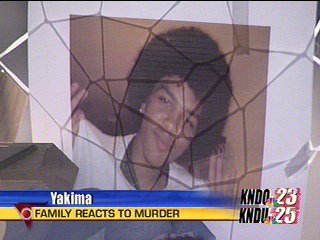 Yakima, WA - Yakima Police are looking for three suspects after an 18-year-old man was shot and killed this morning.
Family and friends are in shock. They are angry and want answers.
Answers to why 18-year-old Mordeice Adams was shot and killed early this morning in what appears to be a random - senseless act.
"Smart, intelligent, getting ready to go into the army," says one family member who asked not to be identified.
Family and friends visited a memorial set up a few feet away from where Mordeice Adams lost his life at 312 North Seventh Street.
"We mind our own business. We keep our distance, so for somebody to do something like that, we want an answer," says the family member.
But answers are something the Yakima Police Department doesn't have right now.
"Brief words were exchanged between the victim and one of the three suspects," says Captain Greg Copeland of the Yakima Police Department, "A very fast physical confrontation and then the suspect shot the victim."
Adams died from a gunshot wound to the chest.
Police say he has no gang connections, but can't say for sure if the three suspects had gang ties.
In fact, they only have a vague description. The men are hispanic and the tallest suspect is believed to be the shooting.
Police don't know if Adams knew the suspects.
Family members say he did not and that no fight took place.
According to them, Adams was shot when he opened the door.
"If you are inside your home and your life is instantly taken when somebody knocks on the door. Wait a minute. What's Yakima coming to?" says the family member.